The Libyan rebel faction has launched a new offensive, this time originating in the southern deserts, aimed at pushing against Tripoli. The new offensive is being backed by the fighters in Misrata as well.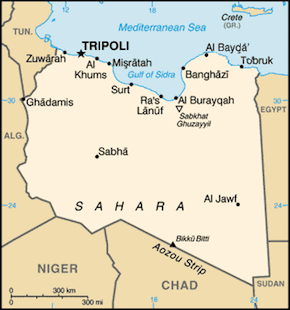 The new offensive is being fueled by French weapons drops, and has seen the rebels capturing a couple of southern villages in the mountains in the biggest move in weeks. As with all of the offensives in this war, the rebels seem confident the push will be a decisive one.
History however, does not appear to be on their side, and while offensives seem to be capable of overwhelming tiny villages at any given time, most of the major cities are pretty securely held by one faction or another, and efforts to take them seem to constantly stall.
At the same time, reports have rebel-linked factions engaging in night-time attacks in Tripoli, and suggest that there are fairly regular gunbattles in the suburbs. These don't appear to be a serious threat to regime control of the capital, but are just the sort of backgronud violence that has become the new "normal" in civil war-era Libya.