Yemeni warplanes launched an air strike near the port city of Zinjibar today, killing at least four civilians and wounding 12 others. The strike was part of the latest offensive which failed to retake the city.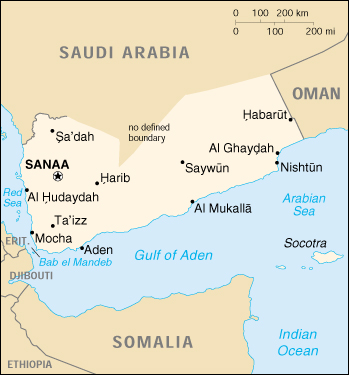 Fighting in and around the city left at least 30 soldiers and 10 militants affiliated with the Ansar al-Sharia killed. It was the latest in a number of bloody but ultimately fruitless attempts to retake Zinjibar from the Islamist group.
Increasingly it seems the Yemeni government is relying on air strikes in portions of the country so far outside of their control that ground troops can no longer operate safely. This has included strikes against the Shi'ite north yesterday, and myriad US drone strikes against targets near Zinjibar.
The loss of territory is becoming a growing concern for Yemen, which also sees looming battles over Aden, one of the largest cities in the nation. With tribesmen taking much of the interior of the nation and other factions taking cities along the coasts, very little remains securely in the regime's control.