With the Pentagon claiming its budget, the largest military budget in the history of humankind, is woefully undersized, new scrutiny is being brought by Rep. Betty McCollum (D – MN) over the massive amounts the military is spending on sporting events.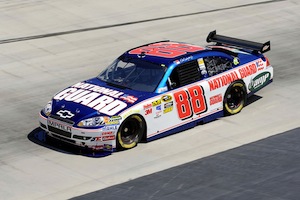 Hundreds of millions of dollars are spent each year sponsoring everything from baseball and basketball broadcasts to professional wrestling, fishing events and especially NASCAR. Indeed, the National Guard spent $20 million in 2010 just to sponsor Dale Earnhardt Jr.
The Army spent nearly $8 million sponsoring another racing team, while another $16 million was spent sponsoring the "Outdoor College Fishing Tour." The military spends so much on professional wrestling that the WWE has its own webpage on the National Guard's website, and vice versa.
Officials argue that the money is a "recruiting expense," but Rep. McCollum cited in particular the Air Guard 400, a racing event held in September at a cost of $645,000 in sponsorship fees. Though the military insisted the event was a success because it led to 439 "lead information" collections, they also conceded that only six "qualified leads" were among them, and not a single one enlisted.
Rep. McCollum has previously sought to require the military to obtain Congressional approval for sponsorships beyond $250,000, which was shouted down in a voice vote. With spending increasingly at issue (McCollum noted that the massive sponsorships continued even after Congress defunded a program for homeless vets), it is likely to continue to be a bone of contention going forward.