It was only a week ago that Yemeni President Ali Abdullah Saleh was wounded in a rocket attack. Since that time, he was rushed to Saudi Arabia for emergency surgery, saw major public celebrations of his ouster, and now, it seems, is eying a comeback.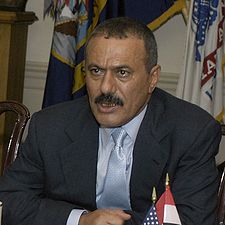 In fact reports suggest that Saleh's family has actually strengthened their position within the nation's security forces since the dictator's operation, and is organizing his supporters for a return to power.
Of course, the pro-democracy demonstrations are continuing nationwide, and all of the same problems with Saleh's continued rule are really still in place one week later. Yet reports of a massive government organized "impromptu" pro-Saleh fireworks display suggest his return is more than just idle talk from the regime.
Exactly how badly wounded Saleh is will likely be a major factor as well, as reports about his condition have gone everywhere from "slightly wounded" to burns over 40 percent of his body and months of recovery time expected. The official word from the Yemeni government still hasn't come, except that they expect Saleh to return "soon." What happens after that is anyone's guess.