A Pentagon memo whose content was revealed today by the Financial Times shows that the cost of America's involvement in the war in Libya is around $2 million per day, putting the cost well ahead of previous estimates of $40 million a month to more like $60 million a month.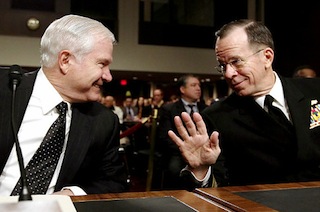 The revelation throws further into doubt the Obama Administration's latest war particularly with Congress already up in arms about the lack of oversight given on the conflict, which began in mid-March.
Despite the growing opposition and two resolutions from both houses of Congress chiding the administration about the war, officials insist it will continue. Admiral Michael Mullen insisted NATO has no clue when the conflict will end, but Secretary of Defense Robert Gates assured that US troops would still be involved whenever that is.
Despite increasingly shrill claims of progress, the war in Libya appears stalemated and destined to last for months, if not years. Britain's defense secretary was up front about this, saying it would probably still be going on past Christmas. For a Congress coping with an already staggering deficit and facing growing doubts about the nation's myriad wars, this may be far too long, and far too expensive, to tolerate.