Speaking today at a press conference in Cairo, Joint Chiefs of Staff Chairman Admiral Michael Mullen reiterated that the war in Libya would continue until Moammar Gadhafi agrees to leave office but he had no idea when this would actually be.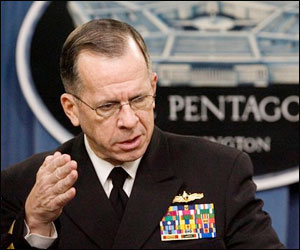 "It's the US position that Gadhafi has to leave and it is a challenge for anybody to put a timetable on that," Mullen insisted, adding "we'd like to see this end as soon as possible."
Mullen's comments came as NATO defense ministers issued a statement vowing to continue the war "for as long as necessary." The British Defense Minister William Hague admitted over the weekend that the war could last "beyond Christmas" and was harder than expected.
Despite repeated escalations of NATO's involvement in the conflict, very little territory has changed hands over the past two months, and both sides appear to be mired in a stalemate.