At least 25 people were killed today and 50 others were wounded in a pair of bombings in northwestern Pakistan. The bombings were caused by remote control, according to officials.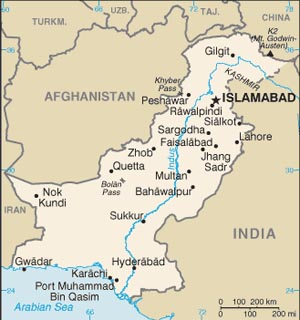 The larger of the two blasts hit a military target, albeit an unconventional one. The blast targeted an army-run bakery in Nowshera, just outside of the key city of Peshawar. At least 18 people were killed there and dozens of others wounded. Army officers were among the slain.
The smaller attack, which came hours earlier, also hit near Peshawar, blowing up a bus stop as a bus came by. The attack killed seven people, including women and children. It was unclear which faction was responsible for the attacks or if the two were related.
Officials see the strikes as retaliation for the US drone strike last week which officials believe may have killed Ilyas Kashmiri, a top militant leader. There were threats of revenge in the wake of the report.