Tribal fighters attacked the presidential compound in Yemen's capital city of Sanaa today, with shells fired into the compound and a nearby government mosque, killing at least seven members of he nation's security forces and wounding President Ali Abdullah Saleh.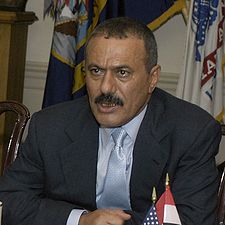 Officials for the regime say Saleh survived with only minor injuries, but he also cancelled a scheduled TV appearance, giving a radio address instead, leaving the extent of his injuries unclear. His deputy prime minister was also wounded in the strike.
Saleh blamed the strikes on "outlaw gangs" composed of his tribal rivals. Thousands of tribesmen have attacked government buildings in the city in retaliation for recent crackdowns by Saleh's forces.
With fighting escalating in the capital and elsewhere nationwide, the pro-democracy demonstrations are increasingly an afterthought, and the escalating civil war has taken center stage. Saleh's control appears to have waned to another low, and it seems unfathomable he will retain his office in any meaningful way much longer.