The Bakara market is not a great place to buy vegetables. Mogadishu's largest market has for years been a popular battleground for the African Union troops looking to move deeper into the city and displace militant factions.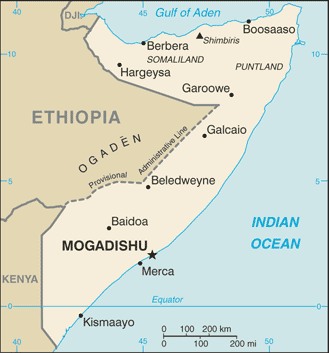 Today was no different, as AU troops backed by the Somali government attacked the marketplace and the surrounding area, engaging in a gunbattle with al-Shabaab forces. No indications of any combat casualties were reported, but at least 17 civilians were killed and 46 others wounded.
The market is in a strategically valuable location, and AU troops report that they have conquered the northwestern portion of it. The self-proclaimed Somali government insists that it reassured the traders that the market will be "safer" under AU control.
Which might be true in the sense that AU forces probably won't be shelling a market they control, but with the battle against al-Shabaab far from over, moving the market into the frontline will mean more gunbattles in the future.