Iranian President Mahmoud Ahmadinejad's tense clash with hardine supporters of Ayatollah Ali Khamenei continues to escalate today, with the nation's parliament announcing it intends to take the president to court over his takeover of the oil ministry.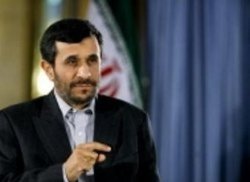 The oil ministry dispute is just the latest in a long series of political battles being fought in Iran, and a 165-1 vote showed unity among parliament in moving forward against the president. Ahmadinejad announced last month that he would take over the ministry on an interim basis after dismissing Massoud Mirkazemi.
Ahmadinejad's decision was blasted as illegal by the Guardian Council, Iran's constitutional watchdog. Despite this ruling, Ahmadinejad went forward with his decision and simply ignored the ban on a president running such an important ministry.
The move was part of a fairly routine reshuffle of the cabinet, and likely would have gone unnoticed had it not come during a public battle with the Supreme Leader over his Intelligence Minister. The decision to run the ministry himself in the 3-month caretaker period was more a reflection on how few allies he has left than anything else, but is being interpreted as a power grab by his opponents.