NATO air strikes have killed at least 52 Afghans over the past 24 hours, including 32 civilians and 20 members of the police. The deaths came in two strikes, one in the Helmand Province and another in Nuristan.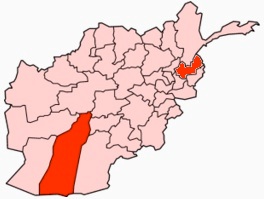 The Helmand strike, late Saturday, saw NATO attack helicopters destroy a pair of homes, killing 2 women and 12 children. The strikes also wounded six other civilians. Helmand's governor's office said the attack came after a nearby US Marine base was struck by insurgents.
The other strike came on Sunday, in the Nuristan Province. Here, US warplanes responded to reports of a battle between insurgents and security forces by opening fire on a group of people they assumed were insurgents. The people turned out to be a group of 18 civilians and 20 police.
The deaths, which Nuristan Governor Jamaluddin Badr termed "friendly fire," came after the Taliban reportedly ran out of ammunition and fled the clashes in the district. NATO has promised to investigate both series killings.