Will Iranian President Mahmoud Ahmadinejad complete his current term in office. The answer to this no longer appears to center around the prospect of a US or Israeli attack.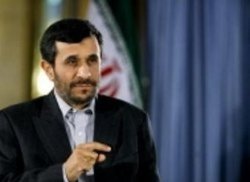 Ahmadinejad's clashes with Supreme Leader Ayatollah Ali Khamenei have been extremely public, and seem to be turning ugly today as growing numbers of hardliners and key clerics demand his ouster.
The most recent clash has centered around Ahmadinejad's failed attempt to fire Intelligence Minister Heydar Moslehi, who was immediately reappointed by Khamenei. This led Ahmadinejad to publicly boycott all official meetings for weeks.
Khamenei was once a key supporter of Ahmadinejad, a fact which helped enormously in the disputed 2009 election. But even after this election tension was emerging, with then-Vice President Esfandiar Mashaei at issue. Mashaei is now Ahmadinejad's chief of staff.
And Mashaei remains a particular sore spot, with a number of clerics condemning him. Mashaei's top aide, a cleric named Hojjatoleslam Amirifar, is even facing charges of "sorcery." Despite the comparatively silly sound of such an allegation, it actually refers to a very serious allegation in the religiously dominated Iran: religious deviation.
Even some of Ahmadinejad's closest traditional supporters like Ayatollah Yazdi seem to be heading for the hills, with the hardline cleric accusing Mashaei of having won over Ahmadinejad to "questionable" behavior. With fewer and fewer allies left outside of his inner circle, Ahmadinejad is quickly finding himself in serious danger politically.