At least 12 anti-NATO protesters were killed and 50 others wounded today when police opened fire on a massive demonstration in the Takhar Province of Afghanistan. Reports have over 1,500 people taking part in the rally in the city of Taloqan.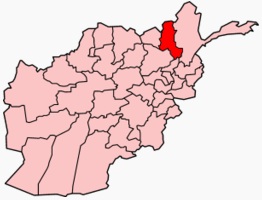 The rally was organized to protest the deaths of four Afghan civilians killed in an overnight attack on their home by NATO troops. NATO confirmed the raid but claimed everyone in the house was an "insurgent."
The protesters marched against a nearby German military base, and police accused some in the rally of throwing "hand grenades" at the base. Despite the claim, there were no reports of any German soldiers killed in the march, and only two "slightly" wounded.
The marchers in the rally condemned NATO for the raid as well as the Karzai government for allowing it. President Hamid Karzai condemned the raid and accused NATO of acting without consulting Afghan security forces.