Faced with another day of massive protests, Yemeni President Ali Abdullah Saleh angrily condemned calls for him to leave office in a timely fashion. He insisted instead that he will defend his presidency "with all our forces and by all means."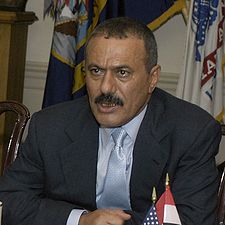 Saleh gave a speech vowing to continue his rule to supporters. The supporters seem enthusiastic, but reportedly number only a few thousand, much smaller than the massive anti-Saleh rallies elsewhere in the capital city.
The comments were seen as a rebuke of US calls for the Yemeni ruler to accept to GCC transition plan. Saleh had once endorsed the plan, but later refused to sign the agreement.
Following the speech, members of Yemen's political opposition say that the plan is "dead." Despite this apparently final assessment, the GCC is reportedly planning to deploy a delegation including the group's general secretary to try to finalize the deal.