Angry pro-regime demonstrators took to the streets of Tripoli on Sunday following the announcement that a Saturday NATO air strike killed Saif al-Arab al-Gadhafi and three of Moammar Gadhafi's grandchildren.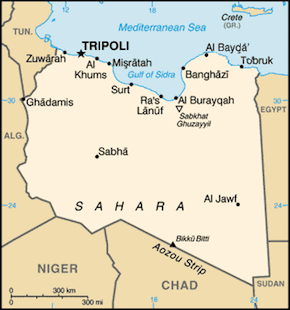 The protesters attacked numerous Western embassies, including the British and Italian ones. They also attacked a UN building, prompting the UN to evacuate all foreign staff. Britain summoned the Libyan ambassador over the destruction.
The Gadhafi government expressed "regret" at the destruction caused by the protesters. Deputy Foreign Minister Khaled Kaim said police on the scene were overpowered by the sheer size of the rallies, and he insisted that the regime would repair all the damage caused in the attacks.
NATO, for its part, insisted the attacks had only hit legitimate military targets. This raises clear questions about the incident, which saw the slain Saif al-Arab's personal residence reduced to rubble. NATO said they found "no evidence" that civilians were inside the residence.
Incredibly, this was not the first time Saif al-Arab was bombed by the West. In 1986 he was wounded in US strikes which killed his adopted baby sister. US officials cheered the latest attacks, with Sen. Lindsey Graham (R – SC) saying the strike was a "good use of the mandate." Saif al-Arab held no position in the government and lived mostly in Germany over the past decade.