Adding confirmation to weeks of rumors to that effect, US officials are reporting Wednesday that current NATO commander in Afghanistan Gen. David Petraeus will soon be replacing Leon Panetta as director of the CIA. The formal announcement is expected later this week.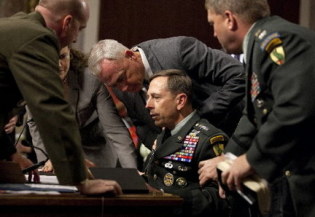 Panetta will move to the position of Secretary of Defense, replacing Bush Administration holdover Robert Gates. Gates is planning to retire and is expected to be out by June 30. Previous reports suggest that Lt. Gen. John Allen will be the next in a long line of Afghanistan commanders.
For Petraeus, the appoint will likely be bittersweet. He is said to have been keen to replace Admiral Michael Mullen as the Joint Chiefs of Staff chairman when he retires later this summer. The Obama Administration was said to prefer Gen. James Cartwright for that position, however, making the CIA something of a consolation prize.
Petraeus took over the role of Afghan commander last July, following the firing of Gen. Stanley McChrystal. Petraeus' replacement will be the fourth commander of the Obama Administration's first term for the war, which has been constantly escalating since he took office.