Syrian troops continue to pour into the southern city of Daraa Tuesday, escalating a crackdown by the Assad regime against the city where demonstrations first began in mid-March. At least six were killed on Tuesday alone, bringing the city's toll since Monday to 45.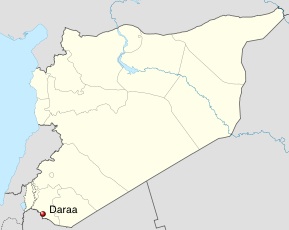 The deaths of the last two days have brought the overall toll since March 18 to at least 416. The vast, vast majority are civilians, though a group keeping track also named some soldiers and police among the dead.
The exact details of the security forces' deaths are unclear, but the Syrian military reported at least three soldiers slain and another 15 wounded today, in what was described as a "terrorist attack" near the border with the occupied Golan Heights.
Reports from one human rights group on the ground said that the forces have cut electricity, water and phone service in the city. This has made reliable information difficult to come by, but tanks began to pour into town early Monday.