Earlier this weekend, it was announced that Yemeni President Ali Abdullah Saleh had agreed to a GCC exit plan which would involve him promising to leave office within 30 days in return for blanket immunity for himself and his sons for their assorted crimes.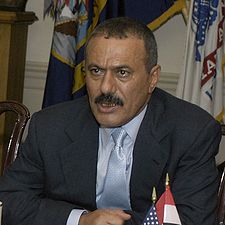 Less than 24 hours later, Saleh was interviewed on the BBC, and ruled out leaving office at all, insisting he would remain in power through 2013. He also accused the protesters of attempting to organize a "coup" against him.
Neither position is really all that new, as Yemeni officials have repeatedly insisted Saleh is willing to turn over power while simultaneously maintaining that he will never do so. Where the reality is is anyone's guess, but it is also largely moot.
That is because the GCC's "deal" was with certain opposition political factions, and not the hundreds of thousands of protesters in the streets of Sanaa. Those protesters are still there, are rejecting the GCC's promise of immunity, the deal's call for protests to end, and the call to hand over control to Saleh's Vice President, a top military general.
There is also a sense that the GCC deal is only a ploy for the regime to buy time, and Saleh's comments will likely strengthen that belief. Whatever the case, the months of protest were about more than just replacing Saleh with a new military ruler, and the number of provinces which have fallen out of the central government's control is another problem sure to linger long past any potential deals between political factions.