Rebel forces have retaken the center of the western Libyan city of Misrata, as threats of US drone strikes loom. Increasingly, the Gadhafi government seems resigned to its military not being able to retake the city by itself.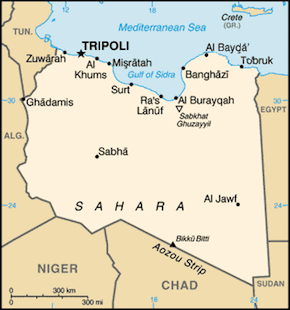 Instead the Libyan foreign ministry is warning that the task of retaking the key city may be turned over to tribesmen. They insisted the tribes, which are loyal to Gadhafi, would be far less concerned than even the Gadhafian forces were about civilian casualties.
The threat underscores the complexity of the situation in which NATO finds itself in Libya. While Gadhafi is enormously unpopular in East Libya, the dictator has support among a number of western tribes, and those tribes have stalled rebel attempts to take over the region.
This suggests that a partition is virtually inevitable, with or without NATO's support. The problem is, a number of key NATO members have vowed to continue the war until Gadhafi's ouster, and this partition might just set the stage for a protracted NATO air campaign.