Local officials in the Dangam District of Afghanistan's restive Kunar Province have confirmed that at least three civilians were killed in an overnight air strike by NATO warplanes. The strike targeted a gathering of "suspected militants" but also killed civilians in the house.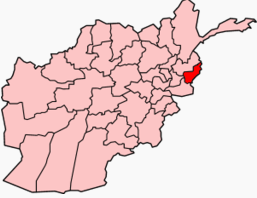 The Provincial Governor said that the strike killed 17 people in total, and that two civilian women and a child were slain in the strike. NATO confirmed the attack but said it was still investigating exactly who was killed.
Kunar has been the center of a number of high profile incidents of attacks against civilians in recent weeks, with a militant bombing last week killing a number of tribal leaders. NATO has also killed civilians in several air strikes recently.
Though today's strike appears to have primarily targeted actual militants (unlike previous Kunar strikes in which NATO forces attacked innocent people it assumed were militants), the deaths are likely to add to tension with the Karzai government, which has been increasingly critical of the rising death toll.