Admiral Michael Mullen is in Pakistan this week with an eye toward improving ties with the Zardari government, a particularly important mission at a time when the two are increasingly at odds. The Pakistani government demanded last week that the US stop launching air strikes against their territory, and withdraw hundreds of CIA operatives.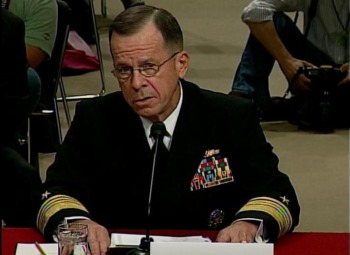 Which makes it surprising that early in his visit Admiral Mullen appeared on television and accused Pakistan's Inter-Services Intelligence (ISI) agency of ties with terrorist groups, and that those ties have directly gotten US soldiers killed.
The claim comes just one week after a high profile attack in Afghanistan's Kunar Province, which President Hamid Karzai blamed on the Pakistani government. The Karzai government has regularly blamed the Pakistanis for violence in Afghanistan.
Experts have been warning that the relationship between the US and Pakistan is nearing a breaking point, particularly in the wake of the Raymond Davis scandal. Mullen's comments reflect that damage, but may also compound it, threatening a full break between the nations.