Tens of thousands of protesters took to the streets of Syria on Friday and were again met by violent crackdowns from security forces, particularly in the city of Daraa where rights groups report forces opening fire into massive crowds of demonstrators.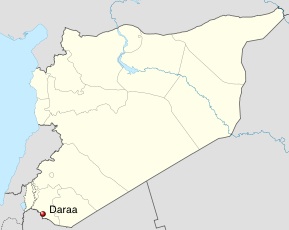 At least 37 protesters were killed nationwide, and 25 of those in Daraa alone. Several hundred others were also wounded. The toll is the one of the worst since protests began in Syria, but the enormous size of the rallies suggests that each crackdown only strengthens the resolve of the protesters.
On the other hand, Syria's state-run TV claimed that 19 security forces members were killed by "gunmen" affiliated with the rallies. The government has been accusing the protesters of being "armed gangs" rather than reformists, but this is the first specific claim of police deaths from them.
Though the accuracy of the claims could not be confirmed, it has raised concerns among human rights groups that the sudden announcement will be used as a pretext for even more violent measures against calls for reform. Already early Saturday there were reports of forces firing on funerals for the slain.