According to French Foreign Minister Alain Juppe, the Tuesday night negotiations for Ivory Coast ruler Laurent Gbagbo's surrender have failed, and opposition leader Alassane Ouattara's militia forces are launching new attacks against him.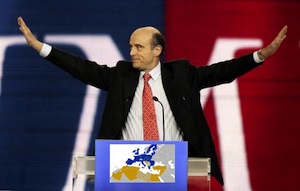 The talks had been centering around offers of safety guarantees for Gbagbo, who remained in office after a hotly disputed November election against Ouattara. Gbagbo was said to be reluctant to agree to a surrender, however, if it meant recognizing Ouattara as the rightful ruler.
The new Ouattara offensive is targeting Gbagbo's bunker at the presidential palace, and a spokesman for his faction said they are going to capture Gbagbo and present him to Ouattara soon. French officials have been demanding Gbagbo voluntarily leave the palace because he "is no longer the president of Ivory Coast."
Though it seems inevitable, with French and UN forces backing his rule, that Ouattara will soon take control, it will likely not be an easy task. The fighting has created massive amounts of displaced civilians, and the country remains sharply divided after the razor thin election.