The Gulf Cooperation Council has a new leader this week, retired Bahraini Lt. Gen. Abdullatif bin Rashid al-Zayani, who took the position over on Thursday. Inevitably, he was asked about the recent GCC invasion of Bahrain to crush anti-regime protests.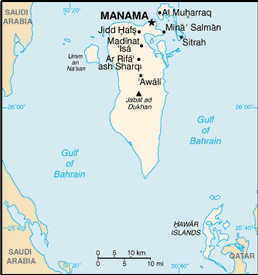 And even more inevitably, Zayani cheered the attacks, saying they showed the seriousness the GCC took toward maintaining "security and stability." He also insisted it was part of a "glorious march" toward greater collective security and "comprehensive complementarity."
The GCC invasion was done at the behest of the faltering Bahraini regime, and officials have defended it as their "sovereign right" to request other nations help them crush dissent. Though the US has offered some vague criticism of the killings of protesters, they also remain close allies of Bahrain and the other GCC members.
Zayani in particular underscores the close Western ties that have allowed the GCC crackdown to largely escape scrutiny. He was educated first at a British royal military academy, then received a Master's Degree from the US Air Force Institute of Technology, then a PhD from the US Naval Postgraduate School.
The GCC crackdown led to mass arrests of protesters, as well as a still unknown number of deaths in the tiny island nation. Bahrain has blamed the protests on a "subversive foreign plot."