Already ill-defined and increasingly unpopular, the US War in Libya has taken several more hits today as evidence mounted that the administration has been overtly lying about the US role in the conflict, and had actual been conducting covert operations in the country for "several weeks."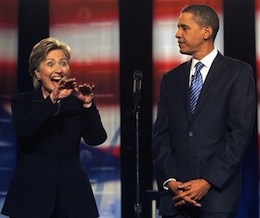 That was the revelation Wednesday, as US officials admitted that CIA ground forces have been conducting secret operations inside Libya for quite some time before the war was formally declared (two weeks ago Thursday) and even further before the first US strikes were launched (that Saturday).
Not only that, but Reuters revealed that President Obama signed an order authorizing the US to secretly arm Libyan rebels weeks ago. This is particularly noteworthy because only yesterday the president pretended to be "considering" this action, saying no such decision had been made.
In his Monday address President Obama feigned pride over the fact that he got the US involved in the Libyan War within the first month of hostilities, far sooner than President Clinton had in Bosnia. Today's revelations suggest that the president was committing American resources from the time the protest movement and the crackdown began to escalate into a civil war, and possibly sooner. The president's already precipitous decision to involve the US in the internal Libyan conflict appears to have been even hastier than ever imagined.