Massive anti-regime protests took place across the nation again today, but Yemeni President Ali Abdullah Saleh addressed one of the few major pro-regime protests. In his comments, he suggested a handover of power, but once again defied the protesters calling for democracy.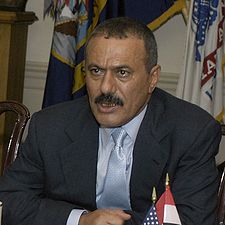 "We need to hand power over to safe hands, not to sick, resentful or corrupt hands," insisted Saleh. He suggested again that he didn't really want to be president anymore, and was open to handing over control of the regime to his supporters.
Which of course doesn't set well with the protesters, who continue to defy the new "emergency laws" that gave Saleh the power to ban public gatherings. Top Yemeni cleric Abdel-Raqib Abad chastised the regime for the laws, and urged protesters to continue their demonstrations.
Saleh has been contending with mostly student protesters for weeks. This has grown, however, with separatist movements joining in against him, and eventually tribesmen. Now, much of Saleh's own military is on the side of the protesters and despite his vows to either remain in office or hand-pick a sympathetic successor, it seems that his influence is waning.