Protests were again active in the southern city of Daraa, in Syria. Hundreds took to the streets there, and also in the nearby town of Nawa. Daraa has been the site of several protests over the past week and security forces have killed and wounded a number of people.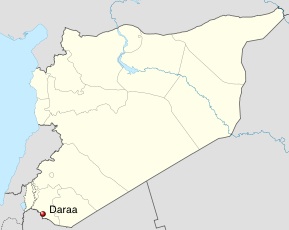 And Wednesday unfortunately, was no different, as an attack on protesters who had gathered inside the Omari mosque in Daraa left at least 37 people dead, including a prominent city doctor who went to treat the wounded. Witnesses say security forces cut off electricity and telephone service to the mosque around midnight, and then launched the attack.
The Syrian government confirmed violence at the mosque, and the death of the doctor, but insisted that an "armed gang" snuck into the mosque and carried out the attack after midnight.
Blaming random gangs for killings has been a common tactic across the region when dealing with protesters. In this case, it seems particularly ridiculous, however, because the mosque was surrounded by security forces at the time. Witnesses likewise appear unanimous in saying that it was security forces that opened fire on the mosque.