The scandal over the "Kill Team" of US soldiers involved in killings of Afghan civilians for sport and the collection of mutilated bodies as trophies continues to grow, with Germany's Der Spiegel magazine releasing some of the secret photos the team took.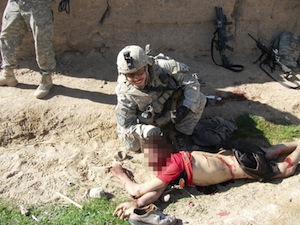 The photos include two showing a "Kill Team" member posing with the corpse of a slain farmer, and another showing two corpses chained to a pole. Der Spiegel says they have other, even more graphic photos, which they have yet to release.
The photos were originally seized by the Army from the "Kill Team" members and were never meant to be released to the public. The US issued a public apology for the photos, saying they were "repugnant."
One former EU representative to Afghanistan, however, downplayed the seriousness of the photos, saying that they are just "one more regrettable incident" and that they will have "little bearing" on public opinion.