Officials with the Ethiopian government have announced over the past several days that they have changed their policy toward Eritrea and are now preparing to oust the government in the neighboring country through "dipomatic and military" means.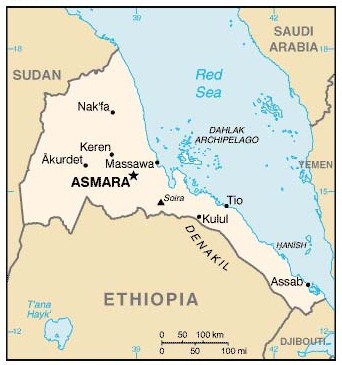 Prime Minister Meles Zenawi said that the Ethiopian government plans to use "all possible means" to destroy the Eritrean government. The announcement came in an interview with an Ethiopia-based radio station run on behalf of the Eritrean opposition.
The officials say Ethiopia has officially abandoned its "defensive" policy and now intends to be "proactive" about toppling Eritrea.
Eritrea was only able to secure its independence in 1993 after decades of bloody clashes with Ethiopia. The Ethiopian government invaded again in 1998 and continues to occupy considerable disputed territory.
Since the loss of Eritrea, Ethiopia has become a landlocked nation, and the reconquest of the territory, whether through a puppet regime or outright annexation, is likely a high priority. Ethiopia has pressed for broad international sanctions against Eritrea, nominally for "meddling" in Somalia. Eritrea has denied this accusation but had ties with the now defunct Islamic Courts Union (ICU) in Somalia, which opposed the 2006 Ethiopian invasion of Somalia.