On Wednesday, the Gadhafi-allied Libyan Army ordered civilian residents to leave portions of the rebel-held city of Benghazi by midnight, and in particular to avoid rebel locations and weapon storage areas ahead of an offensive aimed at retaking the city.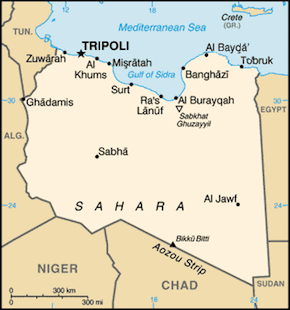 Benghazi was the first city to fall to the public uprising by protesters, and has been the de facto capital of the rebel state of East Libya. With the nearby city of Ajdabiyah having fallen to the Gadhafi regime on Tuesday, a major offensive on the very heart of rebel territory is anticipated.
Having lost nearly the entire country to protesters and retaken a good portion of it with mercenary backed military force, the regime appears quite confident now of its eventual victory, with Saif al-Islam, the son of Moammar Gadhafi, predicting that "everything will be over in 48 hours."
The offensive is expected to spark a major battle, which will only complicate the already dicey humanitarian situation in the city. Already Libya's Red Cross has reported it is withdrawing from Benghazi in anticipation of the clash, while the Red Crescent says it will continue to deliver food.