At least 115 people have been killed, including at least 49 innocent civilians, in the latest offensive by the self-proclaimed Somali government, which years after moving to the nation is still struggling to control more than a tiny portion of the capital city.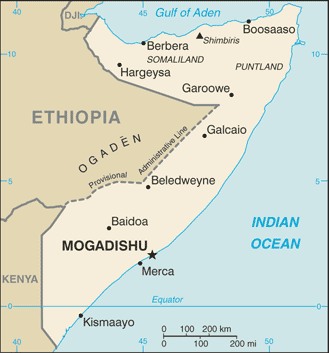 A spokesmen for the Burundian soldiers helping the "government" in the offensive insisted that only 6 AU soldiers were slain in the offensive, with 60 militants killed. Such estimates will likely, if history is any indicator, be contradicted by the militant faction.
It is the first major offensive reported since the al-Shabaab militant faction merged with the rival Hizbul Islam faction. Despite the claims of killings, there is no indication that the government and AU troops actually took control over any new territory.
The United Nations expressed concern today that the offensive is leaving growing numbers of civilians trapped in between the two factions, and large numbers of civilians fled to Kenya, many of them seriously wounded in the clashes.