Witnesses say that Ivorian troops attacked protesters who were rallying against President Laurent Gbagbo today, killing at least six of them and wounding an unknown number of others.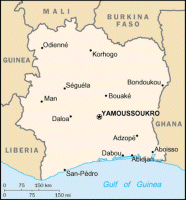 The protests are the latest in a long line of protests aganst Gbagbo in the wake of the disputed 2010 election, which the international community insists was won by his opponent Alassane Ouattara. Ouattara has made no small number of enemies himself, however, demanding foreign occupation to ensure his rule.
The protests against Gbagbo actually began well before the recent spate of protests in Northern Africa and the Middle East, and it is unclear if the protesters have been at all bolstered by the rallies in the north, but in the context of those protests, it seems the government's ouster by popular demand is no longer outside the realm of possibilities.
Likewise, the killings by the Ivorian troops look considerably different in the wake of so many other governments in the region trying to silence dissent through sheer force of arms. The tactic is not working anymore, and it is unclear why officials haven't noticed that.