Multiple public protests against the Gadhafi Regime have been confirmed to have broken out in the capital city of Tripoli today, with protesters reaching downtown and residents reporting sporadic gunfire as regime control over the nation's last bastion of power appears to be wavering.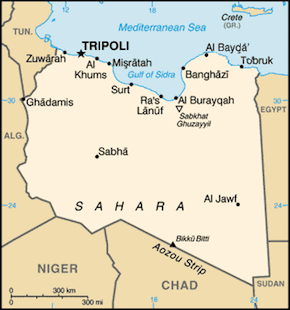 Most of the protests over the past week have been in the far eastern half of the country, and while they have taken virtual control over cities like Benghazi and al-Bayda, the government had kept Tripoli relatively under control, hosting pro-regime rallies in the western capital.
Government crackdowns have killed over 225 protesters, largely in Benghazi, and earlier today the son of dictator Moammar Gadhafi appeared to concede on televison that Eastern Libya was lost, threatening to make the residents get passports if they wanted to visit Tripoli.
But with the protests finally having reached Tripoli, the prospect of the nation splitting in half appears to be waning, and the more likely scenario appears to be that the protesters are on the brink of ousting the regime. There have also been reports that Moammar Gadhafi, perhaps seeing the writing on the wall, has already fled the nation.