At least 20,000 people, an enormous number for the tiny city state of Djibouti, are confirmed to have taken to the streets today demanding the ouster of the long-standing President Ismail Guelleh.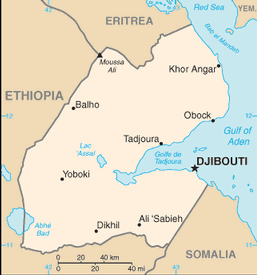 Guelleh has been president since 1999, when his uncle, President Gouled Aptidon, stepped down and named him as a replacement. The two are the only presidents Djibouti has ever had. Guelleh won his first election in 1999 over an opposition candidate, who was arrested immediately after the vote. He was reelected subsequently without in single candidate votes.
This year Guelleh faces an opposition candidate in a potential vote, but he is living in exile in London and is afraid to even step foot in the country for fear of arrest. The protesters are calling for a free and open election this time around.
Djibouti, as with many of the other places facing public revolts, is the host of a US military base, the only one in Africa. Though so far the reports are that the protests have been peaceful it is unclear how long they will remain so.