Though their grip on the capital city of Tripoli appears strong as ever, the Libyan government appears to be struggling to maintain its control over the nation at large, and the major Eastern cities in general, a number of which have been taken over by protesters.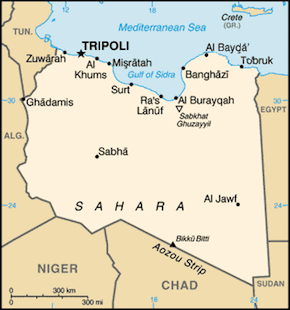 The fighting in the eastern cities in particular was said to have been quite fierce, and before the military fled from the overwhelming groups of protesters, the confirmed death toll going into Saturday was at least 84 slain and hundreds wounded. An additional 15 were slain at funerals on Saturday, bringing the minimal toll to at least 99.
Benghazi alone, one of the eastern cities in question, saw at least 28 deaths on Thursday and 3 more on Friday alone, with 15 more reported in al-Bayda. Other fighting has been reported elsewhere in the nation, so these overall tolls are likely considerably higher.
In the meantime, aging dictator Moammar Gadhafi, whose grip on much of the country seems to be crumbling, is said to have been touring the streets of Tripoli in an attempt to rally pro-government supporters against a possible spread of the protests there.