Fueled by the success of the people's coups in Egypt and Tunisia, protests rage across the Middle East on dates previously agreed upon by social media-based activists. But in Libya, a country ruled by Col. Muammar Gadhafi for 42 years, it seems oppressed citizens couldn't hold it in any longer, turning out in their hundreds to protest the regime two days early.
The protests seem to have been concentrated in the eastern city of Benghazi and other coastal and southern areas. Twitter reports of tear gas, water cannons, arrests, and even up to a dozen dead in eastern cities are not confirmed.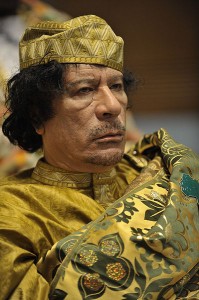 Most of the information comes via Twitter and Facebook, with some confirmation from videos shared on YouTube. Organizers at youth activist group Shabab Libya, or Libyan Youth Movement, exhorted news organizations to mention the protests, but so far it seems only Al-Jazeera Arabic had picked up the story.
Other Twitter users reported that some cellular and Internet service had been cut off or spotty around the country.
Though the capital, Tripoli, was reported quiet today, activists expect that the country's largest city will join in the protests tomorrow.
Gadhafi, often bedecked in fantastic robes and jewelry and surrounded by an all-female troop of bodyguards, rules Libya under what he calls the "Jamahiriya" system, his own special blend of socialism, Arab nationalism, and Islam. In later years, he has enacted weak liberalization policies and picked up a mantle of Africanism, lavishing sub-Saharan despotisms with cash in hopes of ruling a "United States of Africa." The flamboyant leader has said he will himself attend the planned February 17 protests.
Other acts of resistance have occurred before in Libya. In 1993, Gadhafi escaped an assassination attempt, and in 1996, soccer riots turned into violent anti-Gadhafi protests.