Faced with continued resistance to approve the record fiscal year 2011 military budget, Secretary of Defense Robert Gates lashed House Republicans, accusing them of not supporting the war.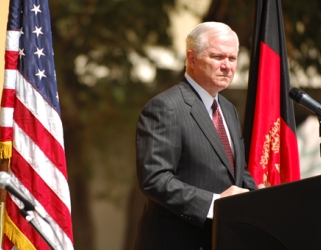 Gates went on to insist that those calling for a cut in the record budget were "disconnected from the real world." Several freshmen Republicans have called for such a cut as part of the effort to curb the massive budget deficit.
The Pentagon, which is still operating at the levels of funding from fiscal year 2010, itself a record level, insists that the lack of an increase has created a "crisis," including preventing them from buying a new submarine they had their eyes on.
Despite Gates having touted "cuts" in military spending, he only ever really changed future military budgets to new records from theoretical, even larger amounts. Either way, the deficit continues to soar and the administration appears likely to cotinue to face calls for real life cuts instead of record budget after record budget.