Two days of fighting in the newly created nation of Southern Sudan has come to an end, with at least 140 people reported slain and the majority of them being innocent bystanders in the clash over a pair of towns.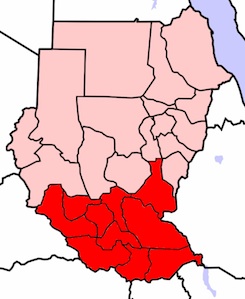 The fight saw top Southern Sudan army commander George Athor creating a rebel faction, capturing the town of Fangak, and laying siege to the nearby town of Dor early in the week. The southern military arrived and eventually ousted them.
The heavy fighting left upwards of 30 of Athor's men killed, 20 security forces, and at least 89 civilians. The two sides are in a sort of uneasy calm at the moment, but officials concede that the clash could spark up again any time.
Southern Sudan recently seceded from Sudan after a referendum showed more than 98 percent of voters wanted to split off. The clashes, however, suggest that the road to building Southern Sudan into a stable nation may be a bumpy one indeed.