How much money can someone steal after 30 years as the dictator of a major country with a command economy and a military reaping billions in "off-budget" profits? Quite a bit, as it turns out.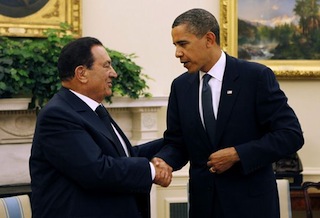 Though Forbes Magazine lists Mexican telephone giant Carlos Slim Helu as the world's richest man, his $50+ billion net worth may actually take a distant second to the unfathomable wealth Mubarak has managed to assemble over decades of dictatorship and years as a top military official before that.
Indeed, while the overall size of Mubarak's personal fortune is not well documented (and for good reason, because much of that money surely vanished out of government coffers), estimates put his wealth in the realm of $70 billion, held in British and Swiss banks and in real estate holdings around the world.
Experts say Mubarak had the foresight to put most of his wealth abroad, where he and his family will still be able to get at it after his seemingly inevitable deposition. But with a net worth that would make the ancient pharaohs blush, the real question is what on earth is keeping him stubbornly hanging on to the reins of power in Egypt – surely he has taken enough to be satisfied by now.