In a stunning turn of events, the House of Representatives has narrowly defeated the effort to "fast track" the USA Patriot Act extension for an additional 10 months. The vote needed a two-thirds majority, but managed to only get 277-148.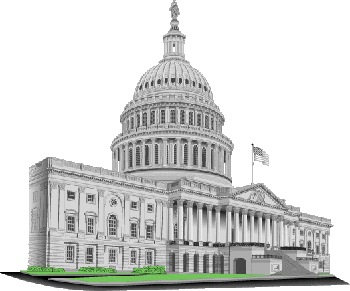 It had been presumed to be a slam-dunk vote in the Republican dominated Congress, but instead proved to be the first of what could be many examples of the freshmen GOP reps breaking with long-standing party support for the controversial act.
Indeed, while the usual Republican dissenters like Reps. Connie Mack (R – FL) and Ron Paul (R – TX) opposed the extension, it may have been impossible to do had not nine of the freshmen bucked the "safe" choice of voting for the extension and stood against the provisions.
Though the vote still shows a majority in favor of the extension and it may be possible to push it through by hook or by crook, it will be extremely difficult to do so before the provisions of the act expire at the end of the month.
It will also put the Senate on notice, as they fight over which of three more ambitious extensions to approve. Reconciling such a bill with the House will be extremely difficult if the House has enough opposition to block even the 10 month extension. Below is a full list of the Republicans who opposed the extension, with freshmen in bold.
Justin Amash (Mich.), Roscoe G. Bartlett (Md.), Rob Bishop (Utah), Paul Broun (Ga.), John Campbell (Calif.), John J. Duncan Jr. (Tenn.), Michael G. Fitzpatrick (Pa.), Christopher P. Gibson (N.Y.), Tom Graves (Ga.) Dean Heller (Nev.), Randy Hultgren (Ill.), Timothy V. Johnson (Ill.), Walter B. Jones (N.C.), Jack Kingston (Ga.), Raul R. Labrador (Idaho), Connie Mack (Fla.), Kenny Marchant (Tex.), Tom McClintock (Calif.), Ron Paul (Tex.), Denny Rehberg (Mont.), Phil Roe (Tenn.), Dana Rohrabacher (Calif.), Robert Schilling (Ill.), David Schweikert (Ariz.), Rob Woodall (Ga.), Don Young (Alaska).