Massive marches were reported across Yemen today as part of the opposition's "day of rage." The biggest such march, in the capital, got off to a tense start when it was revealed that armed men loyal to President Saleh had taken over the planned site of the protests. Still, apart from a few isolated reports of clashes when local police moved to break up some of the smaller rallies, it seems the protests mostly went off successfully.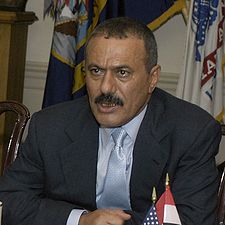 And quite large according to reports, which put the overall number of opposition protesters across the nation in the tens of thousands. Opposition figures vowed the protests would continue.
Which didn't appear to sit well with the Saleh government, which promised that the president would not run for any additional terms in office in 2013, and seemed to expect that to be the end of the matter.
Protesters, however, insisted that Saleh had given them "thirty years of promises and thirty years of lies," and that they were holding out for him to leave office immediately. Saleh has been the president for 34 years, though he technically is in only his second 7-year term, as much of that time he was entirely unelected.