With protests erupting across the region, one of the first protests in Iraq, in the impoverished southern city of Diwaniyah, ended in violence when Iraqi police opened fire on the crowd, wounded at least three.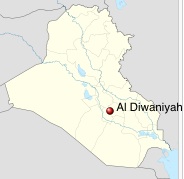 Roughly 1,000 people were said to have gathered in the provincial capital, demanding increases to their food rations and improvements in the state's crumbling power and water infrastructure.
Lack of basic services, particularly electricity, is a long-standing complaint across Iraq since the US occupation began in 2003, and there appears to be growing frustration with the Maliki government's inabiliy to improve the provision of such services.
Police said they opened fire after members of the protest threw stones at them. This drew an angry rebuke from the Diwaniyah governor's office, which insisted "there was no reason to open fire. It doesn't matter if they tried to raid the place or threw stones."