An attorney for the city of Tacoma, Washington is demanding that a resident return public records he was given which prove that the city police were surveilling antiwar activists, saying that the information should never have been released to the public.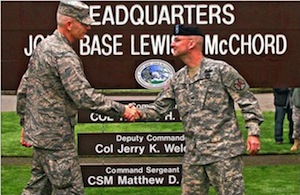 The documents were public records related to the city's recruitment of a Mr. John Towery, an employee at the nearby Joint Base Lewis-McChord, to conduct surveillance against the protesters and collect personal information regarding them.
The records show the city of Tacoma had collected names, photographs, addresses and even social security numbers for a number of people that were believed to be active in the local opposition to the ongoing Iraq War.
The city's lawyer argues that the records should have been redacted to remove the names of the citizens spied on, but the organization that was chiefly targeted, the Olympia Port Militarization Resistance, is using the documents as part of a federal lawsuit against Towery and the military base itself, arguing that the surveillance violated bans on using federal grants to law enforcement agencies to spy on political dissidents and may have violated the Posse Comitatus Act by the use of Towery, an employee at a military base, for law enforcement activities against civilians.