Thousands of protesters continue to rally in Sanaa tonight, demanding that President Ali Abdullah Saleh resign, and citing the successful ouster of Tunisian President Ben Ali as a precedent for their rallies.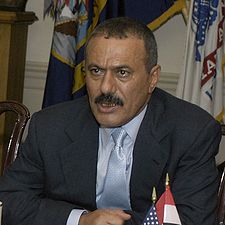 "Look at Tunisia with pride, Yemen has strong people too," the protesters chanted as they marched at the gates of Sanaa University. Saleh has promised, in the wake of the protests, not to run for an additional term after 2013, but this doesn't appear to be a convincing promise for protesters, who sense their momentum would fade, and his promise would have little backing it up in the future.
Saleh is said to have called the Qatari government in the wake of the latest protests against his rules to officially complain about the al-Jazeera television network, accusing them of "inciting unrest" by covering the protests.
Saleh told the Qataris that al-Jazeera was simultaneously aiding Israel an al-Qaeda with its coverage of the protests in his nation, though officials have downplayed the impact of the protests, saying that Saleh's regime is not in jeopardy.