A number of Tea Party Senators spent the weekend in Pakistan and Afghanistan, as part of a delegation led by Sen. Mitch McConnell (R – KY). The trip is seen by many as more about internal GOP politicking than foreign relations.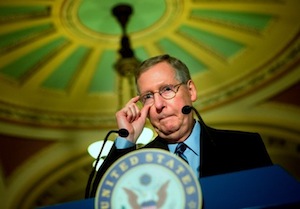 This is because consumate hawk and status quo Republican McConnell is keen to drive a wedge between Senate Republicans with ties to the Tea Party, particularly as so many of them believed they were elected to change policy and rein in deficit spending.
McConnell invited Sens. Marco Rubio (R – FL), Pat Toomey (R – PA), Ron Johnson (R – WI) and Kelly Ayotte (R – NH), but did not invite two of the more staunchly Tea Party members, Rand Paul (R – KY) and Mike Lee (R – UT).
On the visit they met with Gen. David Petraeus as well as a number of top Afghan and Pakistani officials. McConnell has been a long-time fan of the Afghan War and announced today that there is an "overwhelming likelihood of success" in the disastrous conflict.