Speaking today with "This Week in Defense News," Rep. Buck McKeon (R – CA), the new House Armed Services Committee Chairman, slammed Secretary of Defense Robert Gates' trivial cuts in the planned increases in the already record military budgets.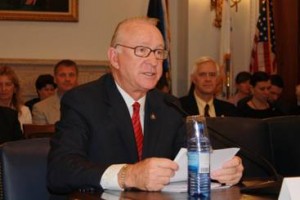 But unlike many Republicans, who are worried about the record military spending and the spiraling deficit, the hawkish McKeon expressed anger that it was being cut at all, terming the move "drastic and dangerous."
Rep. McKeon insisted that with the US still in wars in Iraq and Afghanistan and the "things that China's doing" he wanted to keep the US on a "war footing" and fighting against any cuts in the increase of spending.
Though McKeon appears quite contented with the spending, he is expected to face considerable opposition from a number of members of his party, especially the influx of Tea Party members who campaigned on the importance of balancing the budget.