Software developer and WikiLeaks advocate Jacob Appelbaum was detained at a Seattle airport upon returning from his vacation in Iceland. According to Appelbaum, the officials who detained him demanded his laptop and cell phones were "visibly upset" to learn he hadn't brought them on his vacation.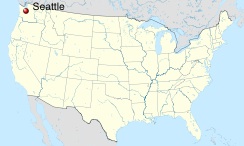 Appelbaum, who began speaking on behalf of WikiLeaks at US engagements after founder Julian Assange was warned it was not safe to travel to America. Since then he has been repeatedly targeted by US officials. He said after today's detention that he "expects to be detained again" when he returns from an upcoming business trip to Toronto.
Despite the increasing regularity with which they detain citizens at the airports, Appelbaum noted that officials did not get his consent to search him and that they refused to allow him to contact his lawyer during his detnetion.
At the same time, he noted that the "agents in Seattle were nicer than the ones in Newark," adding "none of them implied I would be raped in prison for the rest of my life this time."