Israeli Defense Minister Ehud Barak, who portrays himself to the international community as the lone moderate in Israel's far-right coalition government, drew up plans to launch an unprovoked attack on Iran last year, according to media reports.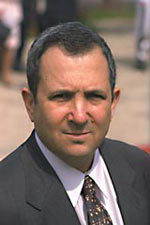 His effort to do so ultimately failed, but only when Israeli Army Chief General Gabi Ashkenazi stepped in and warned that starting a major war with Iran would "bring disaster." It was Ashkenazi's opposition to starting the war, according to the report, that led to his repalcement by Gen. Yoav Galant. Ashkenazi is scheduled to retire next month.
Gen. Ashkenazi was revealed to have told the US in a WikiLeaks cable that Israel was planning a "large scale war" in late 2009, but also warned that Iran could hit Israel with missiles within 10-12 minutes in the event of an attack. This may well have been behind his reluctance to start such a war.
And, sadly, it may also be the reason behind Gen. Galant's selection as his replacement, as he appears to be much less concerned with the consequences of such a war, and is seen as keen to go on the offensive across the region.