While enormous numbers of civilians were killed in the Gaza Strip over the course of the 2008-09 Israeli invasion, none garnered so much attention internationally nor within Israel itself as the deaths of the three daughters of Dr. Ezzeldeen Abu al-Aish and his niece.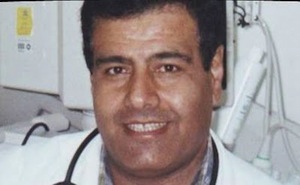 Dr. al-Aish had been a regular telephone correspondent during the war for Israel's Channel 10, and one of his reports to the channel came immediately after an Israeli tank attack on his home, which killed his three young daughters and a niece.
It was a rare moment where the Israeli press broke through the carefully choreographed war propaganda and touched a nerve on the reality of the invasion, and while it sparked considerable backlash against Dr. al-Aish, nominally for being "anti-Israel," it also touched many people who were unaware of the situation.
Fast forward to two years later, and Dr. al-Aish, who has since moved to Toronto, is suing the Israeli government over the deaths. His lawyer, a prominent Israeli human rights lawyer, lashed the defense ministry for refusing to apologize for the killings, and indeed, to this day the defense ministry insists the killings were perfectly appropriate during an invasion.
The lawsuit is coming now because the statute of limitations in Israel for this sort of killing is two years, and Dr. al-Aish says any monetary compensation would be donated to a foundation he has set up in the names of his daughters, to support the education and health of women across the Middle East.
An antiwar activist long before the war touched him so directly, Dr. al-Aish is now teaching at the University of Toronto and has recently published a book about his difficulties in coming to terms with his daughters' deaths titled I Shall Not Hate.