Another 17 people were killed today in a flurry of US drone strikes against the North Waziristan Agency, bringing the two day toll to 42 slain and an unknown number of people wounded.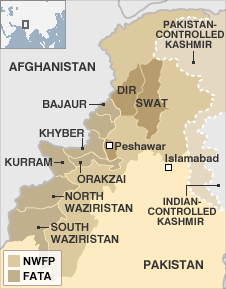 Officials have termed everyone killed a "suspected militant" but conceded that they don't know any of the identities of the slain and that civilians are almost certain to be amongst the toll. With virtually no media allowed into the region, identifying the victims of US attacks is virtually impossible.
But we do know the circumstances of the attacks, including that a number of the people killed yesterday were not in the targeted vehicles but were simply nearby when the missiles landed. Today, the first drone strike destroyed a home and the second strike targeted neighbors who went to the site of the home to look for survivors.
The US has launched 115 strikes this year killing over a thousand people. Of these, only a handful were ever identified as "high value targets" and a number of those reemerged later, alive and well. The vast, vast majority will forever be known as "suspects," despite mounting evidence that they are by and large civilians.